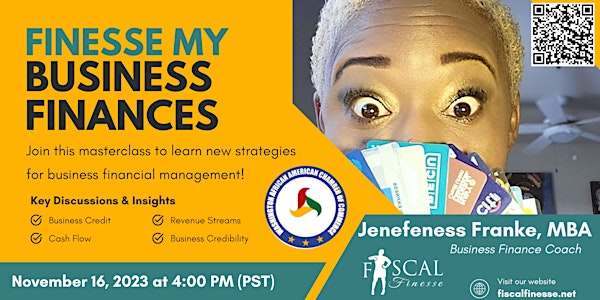 Level up your business finances with our online masterclass, "Finesse My Business Finances," starting on November 16, 2023.
Welcome to the Finesse My Business Finances curated by the Washington African American Chamber of Commerce in collaboration with Fiscal Finesse Consulting! Join us for an exciting online event where industry experts gather to discuss the latest trends and insights in the world of finance. This engaging session is scheduled to start on Thursday, November 16, 2023 at 4:00 PM (Pacific Standard Time).
Get ready to gain valuable knowledge, and network with like-minded professionals from the comfort of your own home. Don't miss out on this unique opportunity to stay ahead of the game in the ever-evolving field of business finance. Secure your spot now!
Thursday, November 16 · 4 – 5pm PST, Online
Register here