August is #NationalBlackBusinessMonth, created in 2004 by historian John William Templeton and engineer Frederick E. Jordan Sr. to bring attention to the needs of more than two million Black-owned businesses operating across America.
Here in Washington, Rudd's RUBB Initiative is eager to bring awareness, access and education to Black Business Leaders during the month of August and beyond.
In 2021, Ezell's Famous Chicken Co-Founders Lewis and Darnell Rudd, along with their sister Faye Stephens, in partnership with DoorDash and other partners in prosperity, introduced the Rudd's R.U.B.B. (Raising Up Black Businesses) Initiative, a precedent-setting initiative designed to financially empower Black-owned businesses. This year, they are starting the Inaugural Black Business Conference to further educate and elevate black business owners in the state of Washington.
There will be networking, mentor meetups, educational workshops and breakout sessions, headshots and much more.
This event is being held at the University Washington Seattle Campus HUB (Husky Union Building).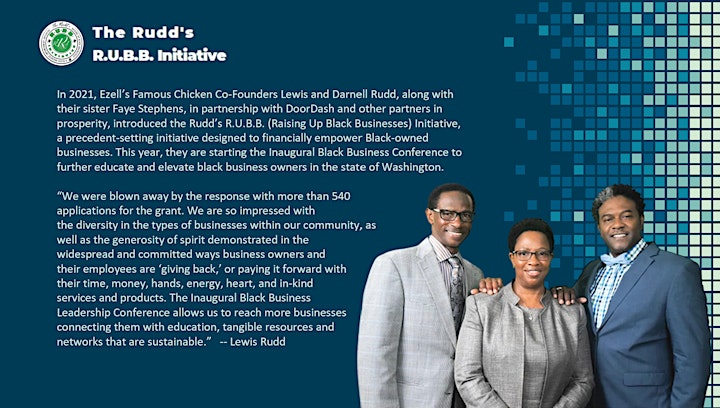 Register here
August 19, 10:00 AM – 4:00 PM PDT @ University of Washington, Seattle